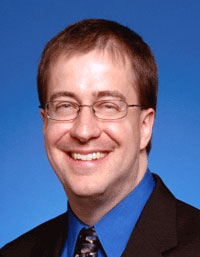 Trained as a communication scholar and social scientist, Eric Dishman has used qualitative research methods for more than 13 years to help technology companies understand and invent new market, business, and technology opportunities. He and his team borrow from anthropological and other social scientific methods to interview, observe, and even live with thousands of people around the world at home, work, and play. Eric's research has focused primarily on medical anthropology, medical informatics, healthcare IT technologies, home healthcare, chronic disease management, telehealth, and aging-in-place technologies, first for Microsoft co-founder Paul Allen, and now for Intel Corp.
Eric is the founder and general manager of Intel's Health Research & Innovation Group - part of Intel's newly formed Digital Health Group - where he is responsible for driving global R&D for new healthcare and wellness-related technologies across the continuum of care from hospital to home. He also directs the Intel Proactive Health Research lab, focused on home health technologies for seniors and their families who are struggling with cognitive decline, cancer, and cardiovascular disease. Most recently, his group has been conducting pioneering "behavioral biomarker" research by deploying wireless sensor network, digital home, and machine learning technologies into the homes of seniors for unprecedented early detection, differentiation, and personalized treatment of conditions such as Alzheimer's and Parkinson's.
Eric spends much of his time on the national circuit speaking about and lobbying for new technologies that can help improve healthcare quality while reducing costs by shifting healthcare from a reactive, crisis-driven paradigm to a proactive, prevention-driven paradigm.
In partnership with the American Association of Homes and Services for the Aging (www.aahsa.org), Eric founded - and serves as the national chair of - the Center for Aging Services Technologies (www.agingtech.org), a cross-industry working group of more than 300 organizations that are driving "aging in place" technology R&D to give seniors more quality, choice, dignity, independence, and personal responsibility for their care no matter where they choose to live. In partnership with the national office of the Alzheimer's Association, Eric also co-founded a new research consortium called ETAC (Everyday Technologies for Alzheimer's Care, at (http://www.alz.org/research/care/) to focus on the use of home-based technologies for early detection and personalized assistance for Alzheimer's.
Eric is a nationally known speaker on the topics of aging and home healthcare technologies, and he serves as an advisor to numerous companies, universities, and Congressional members on assistive technologies, telehealth, and home healthcare.
Eric and his wife, Ashley Armstrong, who is also a social scientist, split their time between a snowy Mount Hood cabin and their rainy home in Portland, Oregon, with their two black labs, Maggie and Lucy.