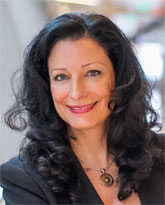 Petra has over 20 years of business experience in the US, Europe and Asia.
As a pioneer in the mobile industry she is one of the first women globally to co- found a mobile company in 2005. Under her leadership, Smaato has become the largest independent Global Mobile Advertising and Real Time Bidding Exchange in the mobile advertising industry with headquarters in San Francisco and offices in New York, Hamburg, Singapore, Mumbai and Jakarta.
Prior to her occupation in mobile she had a successful career in e- commerce. As founding member of Intershop in 1996, Petra was instrumental in growing the company from a start-up to a publicly listed company with a market cap of $12 Billion. She was responsible for Intershop's $25M licensing deal with Deutsche Telekom and their subsequent investment in the company. As VP of Business Development and Strategic Alliances Petra had global responsibility for all strategic, business and technical partnerships.
Prior to Intershop she did market entry strategies for IT companies in the US and Europe.
As a board member of Hamburg@work, one oft he the largest public/private trade organization in Germany, Petra is responsible for International Alliances. She is on the Global Leadership Team of Women in Wireless, responsible for global expansion. She is Co-Chair of the Wireless & Mobile Industry Group at GABA, the German American Business Association.
Petra has been named Mobile Women to Watch by Mobile Marketer, Women Entrepreneur who launched a successful mobile startup in Forbes and Top Female Executive by Mobile Entertainment.
She recently was appointed honorary HamburgAmbassador by the Governor of the State and First Mayor of the City of Hamburg.