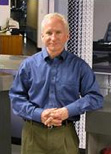 Rob Branson joined PACCAR in 1986 and has since held a variety of technology and management positions. His teams have implemented a variety of new technologies at PACCAR, including software integration services, Web services, server virtualization, storage area networks, directory services, electronic mail, high-performance computing clusters, systems management services, wireless networks, and service consolidation.
In 2006, Rob became the director of Global Infrastructure Technology, responsible for IT architecture and infrastructure technology decisions for the company. He is responsible for the assessment, introduction, and deployment of new technologies at PACCAR. Rob created a Technology Center that develops, validates, and showcases new technologies for potential adoption. This team is developing prototype applications for PACCAR's dealerships using Microsoft Surface, and is developing prototypes for in-vehicle systems. In addition to the above responsibilities, the IT department for PACCAR's Technical Center reports directly to Rob.
In his spare time, Rob enjoys time with his wife and 8-year-old son skiing, hiking, and playing soccer and golf. When not spending time with his family, he climbs, ski mountaineers, and enjoys the outdoors.