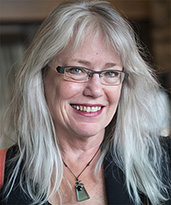 As editor-in-chief of Strategic News Service, Sally Anderson manages and creates content for SNS. She's the editor of the weekly SNS Global Report on Technology and the Global Economy, the FiReBooks imprint, and FiReFilms productions, and creates or facilitates graphic design across key SNS initiatives. She's also production manager for SNS and Future in Review (FiRe) conferences, websites, and global events including the SNS "Future in Review" Speaker Series in Park City and Salt Lake (2013-2017). She serves as default photographer and social-media conduit for the annual "FiReFilms at Sundance" week in Park City, SNS Predictions Dinner in NYC, and SNS Predictions : West in the Bay Area.
Sally conceived the interactive news model that became a shared patent as SNS iNews™. She serves on the FiReFilms steering committee (www.firefilms.org), supporting scientifically based documentaries to educate, inspire, and transform humanity, from conception through distribution; and recently joined the board of Orca Relief Citizens' Alliance (www.orcarelief.org), the longest-standing nonprofit dedicated to reducing the mortality rate of the Salish Sea's Southern Resident Killer Whales.
Sole proprietor of Red Pen Productions since 1990, Sally has been a book editor (fiction and nonfiction) and a writer and/or editor for clients including the Smithsonian Hirshhorn Museum (Communication Arts Award of Excellence), Peabody Essex Museum (Yin Yu Tang: One Show Interactive Merit Award), Microsoft Press, Amazon.com, msn.com, Seattle Weekly, secondstory.com, Miami Aviary, Minneapolis Zoo, Sasquatch Books, the Seattle Arts Commission, Aldus, KCTS magazine, Bay Press, and Washington magazine, among others.
In 1997, Sally became the first executive editor at Bill Gates' Corbis Productions after serving as lead editor, associate producer, and writer for the award-winning CD-ROM Leonardo da Vinci. She created Corbis's first corporate style guide and co-produced history, travel, educational, and pop-culture web features, working with experts in technology, photography, multimedia, and film, including the Ansel Adams Trust, Ken Burns, Paul Souders, Peter and David Turnley, Martin Kemp, Chris Rainier, Roger Ressmeyer, and Curtis Wong.
Sally was later part of a 3-person team hired by Amazon (1999-2001) to set up the foundations of the "Everything" store it is today. While there, she created Amazon's first interdepartmental Style Guide and managed, wrote for, coded for, and launched three of its startup web stores.
In February 2003, with Sam Hamill, award-winning poet and founder of Copper Canyon Press, Sally co-edited Poets Against the War (Nation Books). In 2003-2004, she served as lead editor of Hamill's PAW website, finding and supervising 30 editors from 18 countries, and served on the PAW board of advisors. In 2005, she conceived of and served as creative consultant for the documentary Voices in Wartime (director, Rick King), which became the basis of curricula for the continuing Voices in Wartime Education Project (director, Andrew Himes). She is a published poet and was the co-editor of The Universal Powers of Flow and Interaction: Applying the Two Fundamental Actions Behind Every Element of the Universe (2017).
An exhibiting painter much of her previous life, Sally holds a double BA in Fine Arts and Comparative Literature from the Evergreen State College, with studies at Harvard University and the University of Massachusetts in Psychology, Studio Art and Art History, Classics, and Fiction Writing. She volunteers as a Reading Buddy with the Boys & Girls Club in her Seattle neighborhood and is passionate about improving the understanding between humans and the other residents of our connected planet, from survival of species to animal communication and protection of the air and waters on which all depend. In daily practice, Sally's current obsessions are photography, language studies (Italian, French, Spanish), classes in voiceover and accents, African dance, entertaining her Taiwan rescue dog and cat family, and finding quiet urban paths in beautiful places.