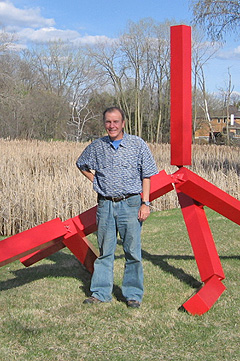 Jonathan Wilkie is one of the few managers who has made the transition from family business to entrepreneur. He spent 15 years with the DoAll Organization as the manager in charge of all production and product development for the 10 manufacturing companies in the group. He served on the boards of directors for each of the 87 companies in this industrial supply firm. He was the president of Continental Machines Inc. at the time that a family dispute caused him to sell his interest in the family business and leave the firm.
Today, as president and owner of Nicollet Technologies Corp., Jonathan is one of the nation's leading graphic-arts technologists. Nicollet Technologies is a leader in the production of power supplies used by industry to produce ultraviolet (UV) energy. The UV energy is used to cure things and to help purify water in water-treatment plants.
Jonathan is involved in a startup company soon to be the first all-digital production studio in the world. Having played a vital role in winning the HD-DVD format battle, Blue Ray Technologies LLC is now positioned to mass produce and distribute Blu-Ray discs for independent producers of content at its plant in Spokane, Washington.
Jonathan has produced more than 20 patents in several different technologies, including machine tools, oil hydraulic components, telecommunications, and electronic power supply products. He is a graduate of Menlo College in Menlo Park, California, and holds a Bachelor of Science degree in Business Administration. As important, Jonathan is a Veteran of Foreign War. He has a passion for Lean Design. Jonathan's principal residence is in Wayzata, Minnesota.