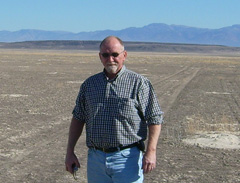 Dennis L. Knight Sr. is executive vice president and chief operating officer of Accelegrow Technologies Inc. Prior to joining Accelegrow Technologies, he formed Knight Johnson Technologies, where he served as chairman and CEO. From 1971 until 1981, he was associated with E.T. Barwick Industries and Salem Carpet Inc. in various management positions. He joined Riegel Textile Corp. in 1981 in the Engineering and Maintenance Division with primary responsibility of power generation and total plant maintenance.
After Riegel Textile's acquisition by the R.B. Pamplin Corp. in 1985, Dennis' responsibility was diverted to Acquisition and Strategic Corporate Divestment. In 1990 he left the textile industry and co-founded JKM Equipment Sales, a provider of heavy equipment to the construction industry. In 1998 he accepted a position as vice president of Manufacturing with Tepley International in Chattanooga, Tennessee, responsible for manufacturing facilities in Southeast Asia.
Dennis holds several patents pertaining to glove design and hand measurement systems. He grew up in Lagrange, Georgia, and attended Georgia Institute of Technology.