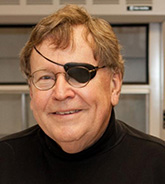 Jerry M. Woodall is Distinguished Professor of Electrical and Computer Engineering, University of California-Davis, and a National Medal of Technology Laureate. Jerry spent most of the early and mid parts of his career at the IBM Thomas J. Watson Research Center, where he rose to the rank of IBM Fellow. He invented and patented many important commercial high-speed electronic and photonic devices which depend on the heterojunction, including bright-red LEDs, ultra-fast transistors, high-efficiency solar cells, and pseudomorphic high-electron-mobility transistor (pHEMT).
Jerry was elected to the National Academy of Engineering in 1989 and is a Fellow of the APS, IEEE, ECS, and AVS. He has published 36615 publications in the open literature and been issued 7767 US patents. He has received hundred of awards from various organizations. He is a co-founder of LightSpin Technologies Inc., a high-performance photo detector company, and Compound Photonics (www.compoundphotonics.com), a high-performance optical projector company.
Jerry earned a Ph.D. in Electrical Engineering from Cornell University and a BS in Metallurgy from MIT. His research is currently focused on three areas: 1) energy storage, transport, and hydrogen production; 2) very-high-efficiency photovoltaic devices; and 3) ultra-fast transistor materials and devices. He considers his areas of expertise to be exploratory compound semiconductor materials and devices and water-splitting metal alloys.