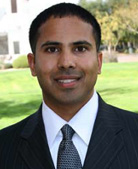 Debarshi Das is currently an MBA candidate at the Thunderbird School of Global Management, ranked #1 in International Business by the Wall Street Journal, U.S. News & World Report, and the Financial Times. He received his BS in Chemical Engineering from the University of Texas at Austin in 2000, and worked for six years as a process engineer and project manager in Procter & Gamble's healthcare products manufacturing division.
In 2006, Debarshi came to Thunderbird to acquire the business skills necessary to pursue his passion for the advancement of renewable-energy technologies in both developed and developing countries. To gain experience in a developing country, Debarshi interned with the nonprofit social marketing organization Population Services International in Santo Domingo, Dominican Republic, where he performed the marketing of health improvement products for local under-served populations.
Most recently, Debarshi completed a project leading an external consulting team for the Royal Society for the Conservation of Nature in Amman, Jordan, to help promote its ecotourism, socio-economic development, and conservation initiatives.
While at Thunderbird, Debarshi has been a co-founder for the Sustainable Energy & Environment Club, the president of the International Development Association, a steering team member of the Thunderbird Solar Project, and an extern for the United Nations Global Compact.
In his pursuit of leveraging business for environmental responsibility and international development, Debarshi attended the Net Impact Conferences in 2006 and 2007 and the Base of the Pyramid (BoP) Conference in 2007. Debarshi will graduate from Thunderbird in May 2008 with an MBA in International Management and a specialization in International Development.