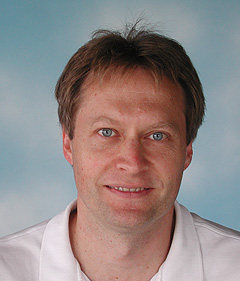 Scott Wiedeman has over 23 years' experience exclusively in thin-film PV, spanning three startup PV companies. Currently chief scientist at Global Solar Energy, he is responsible for the expansion and development of several thin-film processes, including copper-indium gallium diselenide (CIGS) with the design and fabrication of high-rate production equipment and processes for the 100 MW capacity expansion. He has also led process capability improvement for several large-area, high-rate, thin-film deposition steps. In this capacity, he has developed specialized components and process sensors enabling higher rates and improved yields for manufactured PV product. His experience includes CIGS deposition source and reactor design, device/module characterization and testing, and development of monolithic integration processes and equipment.
Prior to joining Global Solar at its genesis, Scott was leading the CIGS development at Solarex. He led a small team there which put together the processes and equipment to produce the highest industry CIGS device (15.5%) and world-record thin-film mini-module (13%) at the time. While at Solarex, Scott was involved in all stages of the CIGS process development, including absorber deposition, window layer deposition, monolithic integration, and device and module testing, as well as equipment design and specification.
Previous to his CIGS experience, Scott helped develop high-efficiency, large-area, triple-junction a-Si-based solar modules. While in this position, Scott evaluated alternative semiconductor materials, device structures, feed gases, and plasma conditions to yield higher-performance devices and modules.
Scott has over 25 publications, primarily in photovoltaics, and six patents. He received the Allan P. Colburn award for "Outstanding Dissertation in the Sciences" at the University of Delaware. He holds a Ph.D. and an MS in Electrical Engineering from the University of Delaware and a BS Cum Laude in Physics from Muhlenberg College, Allentown, Pennsylvania.