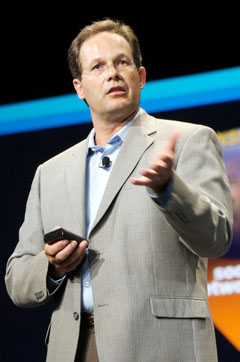 Marthin De Beer is senior vice president and general manager of the Emerging Technologies Group at Cisco. Marthin formed this group more than two years ago and is responsible for cultivating a steady stream of new businesses which can create $1 billion worth of revenue and take Cisco into new adjacent markets. Within this team and under his leadership, he has led the development of Cisco TelePresence, Digital Media Systems, Linksys One, IP Video Surveillance, and Cisco IPICs.
Previously, Marthin was responsible for Cisco's Global Enterprise IP Communications solutions and led the introduction of Cisco's Architecture for Voice, Video, and Integrated Data solutions (now Cisco Unified Communications). He played a key role in taking Cisco's IP communications business from inception to a large, profitable business.
Marthin has more than 20 years of experience in the communications and software industry. He has been at Cisco for 13 years directing key platforms such as the Cisco Catalyst switching platforms and Cisco IP telephony and VoIP systems. Marthin was also a founder of two startup companies and previously held senior marketing and engineering positions at Hughes LAN Systems, Persetel Computer Systems, and Atlas Aircraft.
Marthin holds a Bachelor's degree in Engineering from the University of Pretoria, South Africa.