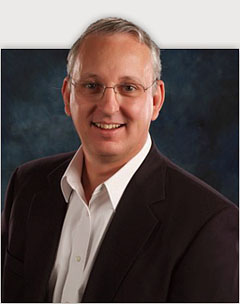 Mark Doucet co-founded SkyFiber Inc. in 1996 and currently serves as chairman, CEO, and CTO. As CEO, Mark provides ongoing oversight in all areas of the business. His intuitive ability to solve complex technical problems with uncommon simplicity brings unique perspective to his role in determining and overseeing the technology direction for the company. Prior to forming SKYFIBER™, Mark founded and served as president of Dominion Technologies, a computer consulting firm where he inspired and co-authored SKYFIBER's first patent.
Today, Mark's intellectual-property portfolio contains more than 17 granted or pending patents, including the company's landmark Point-to-Multipoint (PtMP) patent, which has been successfully defended in federal court. Under his direction, the development team at SKYFIBER has designed and built an innovative series of products that have demonstrated significant competitive advantage and measurable value in providing wireless light communication across multiple market segments.
Mark previously held management responsibility for the multimillion-dollar operations at Micro Computer Center and served as network administrator for the Commandant's Office at Texas A&M University. He holds a BED in Environmental Design from Texas A&M University.