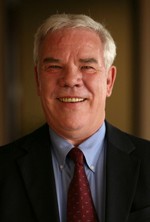 Jim Waldo is a Seattle native and a graduate of Whitman College in Walla Walla, Washington. In 1994, Whitman honored Jim as Outstanding Alumnus of the Year for his civic leadership and outstanding career.
Jim graduated from Oregon's Willamette College of Law in 1974 and accepted a position in the Ford Administration with the Labor Department. In 1976, he returned to Seattle to work in the United States Attorney's Office.
Now at the law firm of Gordon Thomas Honeywell LLP in Tacoma, Washington, Jim has pursued a career in complex negotiations and mediation. Jim is regarded as one of the premier lawyers at resolving some of the most contentious and complex public policy disputes without litigation. Jim has successfully brought warring parties together and solved disputes.
Currently, Jim is working on a number of projects in California, Oregon, and Washington state. He has recently facilitated discussions in California on the management of groundwater and successfully mediated a potential allocation of water shortage with the Friant Water Authority in California. He also has provided advice to the Seattle Public Utility on water issues. He is currently advising Tacoma Public Utilities on certain energy issues, as well as providing strategic advice to a power producer regarding integrated permitting and regulatory issues for construction of a gas combined cycle coal gasification plant coupled with carbon capture and geologic sequestration.
In 1999, Congress charged the Hatchery Scientific Review Group with the responsibility for recommending scientifically based changes to fish hatchery operations in Puget Sound and Coastal Washington. Jim was the lead facilitator on this project and helped the scientists and state and tribal hatchery managers apply science and implement needed reforms. In 2007, Jim lead a NOAA Fisheries Service hatchery and harvest review project in the Columbia Basin with the HSRG scientists as a follow-up to the work done earlier in Washington. The scientists presented their final report on the Columbia River Basin to Congress in March of this year.
For three years, Governor Gary Locke retained Jim as the Governor's water policy advisor on numerous major water policy issues in Washington state. The American Water Works Association recognized Jim's work in water by selecting him to receive its National Award of Merit in 2005.
In 2005, Jim helped a number of parties resolve a major water quality dispute in the San Joaquin River Basin in California that had been in litigation since 1964. Jim facilitated discussions on the California Bay Delta water issues among the major urban and agricultural suppliers and provided strategic advice to the participants. He successfully mediated negotiations among the federal and state water contractors in California, the Bureau of Reclamation, and the California Department of Water Resources that resolved a number of major outstanding issues concerning the operation of the Central Valley Project and the State Water Project. Earlier, he helped resolve long-standing disputes over water allocations in the California State Water Project between the agricultural and municipal water contractors which resulted in the "Monterey Agreement." In 1990, he managed the Washington State Water Resources Planning Process, which resulted in agreement among 175 participants to resolve water resource planning issues through a cooperative process between state and local governments, tribal governments, private business, environmental and recreational advocates, commercial and sports fishermen, and the agricultural community.
Jim has been involved in a number of energy-related issues. In 1997, he mediated negotiations among utilities, customers, energy suppliers, and government regulators to develop a pilot tariff for Puget Sound Energy, allowing open access for retail electricity competition. From 1991 to 1993, Jim chaired the Washington State Energy Committee. From 1992 to 1994, he advised the Bonneville Power Administration on a range of issues including energy agreements with British Columbia, West Coast transmission and energy exchange agreements, and fish and wildlife issues.
In 1992, Jim negotiated a settlement agreement among the Lewis County Public Utility District and various groups opposing the construction of Cowlitz Falls Hydroelectric Dam Project in Lewis County, Washington. The settlement agreement provided a conservation program, fisheries protection, and a rate structure acceptable to all parties, and removed opposition to construction. The project has now been completed and is operational. It is the only hydro project of its size to be permitted and built in Washington state in the last 16 years.
Jim provided leadership in reaching Washington state's landmark Timber/Fish/Wildlife agreement in 1986, in which timber owners, environmentalists, and tribes came to agreement on timber harvesting rules in Washington state. He was the lead negotiator for local governments and private businesses in the Puyallup Tribal Land Claims Settlement. The settlement was the second-largest land claims settlement in recent U.S. history.
Married for over 25 years, Jim and his wife, Sharon, have three children and live in Tacoma, Washington.