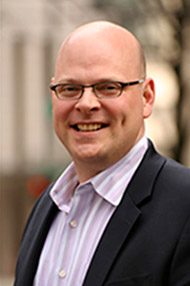 Sean Cunningham is a co-founder of Logic20/20 and serves as its president. He is an experienced CIO, consultant, business coach, and inventor. His industry experience includes financial services, mortgages, sales and marketing, manufacturing, and general custom development.
Sean's passion is helping firms to become exponentially more efficient and productive through the use of technology. Although technology offers businesses great promise, tech projects are too often unnecessarily complex and difficult to manage.
Sean enjoys working in all areas of business, including operations (finance, legal, and logistics) and technology. He has particular expertise in designing and implementing technology solutions that simplify company operations and improve transparency. In addition, he especially enjoys building and optimizing software development teams to drive much higher levels of success and predictability.
Before founding Logic20/20, Sean served for five years as managing director of Technology for Watterson-Prime Software, a financial software and services firm that provides data analysis and consulting services to financial institutions around the world. He designed and led the creation of all of the technology and operational systems, leading to substantial profit and performance improvements.
Prior to that, Sean served as executive director of the Web Solutions Group for Internet Commerce and Communications, where he led a custom software development team. Sean also worked for five years for MSI Consulting Group in technology roles culminating in chief information officer. There, he led a team of consultants and software engineers in the design and creation of innovative customer and partner management systems for companies such as Oracle, Seagate, and Baan.
Sean also relies on a Bachelor of Arts degree from Colorado College along with strong connections throughout the Northwest technology community to deliver clear, relevant business and technology solutions.