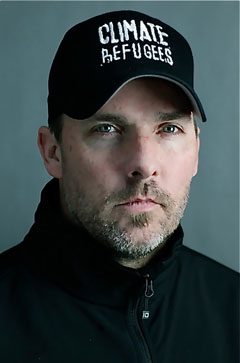 Multi-award-winning filmmaker Michael Nash has been involved in the entertainment industry for a decade. Recently, Michael was hand-picked along with the likes of Steve Wozniak (co-founder of Apple Computers), John Chambers (founder and CEO of Cisco Systems), Carlos Santana (musician), and Richard Newton (dean of UC Berkeley) to be the recipient of the Global Innovation Award.
It is Michael's cutting-edge innovation and his passion to tell stories that so few filmmakers will attempt that has garnished him such high accolades. Michael has recently directed the global documentary titled Climate Refugees, a film the United Nations screened in Copenhagen for the leaders of the world. There Michael was also highlighted as an expert on panels regarding environmental migration and the human face of climate change. Climate Refugees had its world premiere at the 2010 Sundance Film Festival and was called out by Robert Redford as one of the most important films at Sundance, naming the film "an agent for social change." Senator Barbara Boxer states, "It's films like Climate Refugees and An Inconvenient Truth that truly are the wind that will fill the sails to America signing a green energy bill."
Michael's first feature film was the critically acclaimed Fuel, which won top feature film honors, including the Grand Jury Award in Europe. He has created a digital-video exploration montage for the Getty Museum and been involved in several television programs, development deals, and music videos. Currently Michael has two TV shows in pre-production, one with Fremantle (of American Idol and America's Got Talent) and the second with Grosso/Jacobson and CAA.