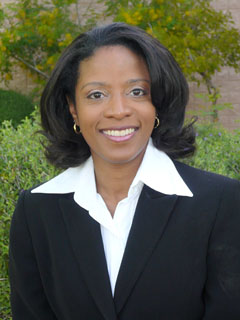 Andrea Doakes is currently an MBA student at Thunderbird School of Global Management. She has focused her studies on global management, operations, consulting, and business strategy.
Andrea has a passion for using her skills to advance global businesses that are sustainable yet also strive to enhance the greater good for people of all incomes, around the world.
Prior to Thunderbird, Andrea worked for Chrysler LLC, with varying levels of increased responsibility, including lead program manager for diesel powertrain control systems. She holds an MS in Electrical Engineering from Wayne State University and a BS in Electrical Engineering from Tennessee State University. In addition, Andrea has served as chairperson of the advisory committee for Utica Public High School's Careers in Technical Education program and is a volunteer mentor for Teen Dream Camp, a program designed to empower at-risk youth.
Andrea's Thunderbird experience also includes serving as vice president of the Thunderbird student government, studying Asian regional business in Beijing; regulatory process creation in Geneva, Switzerland; Spanish language in Queretaro, Mexico; and traveling extensively throughout Europe.