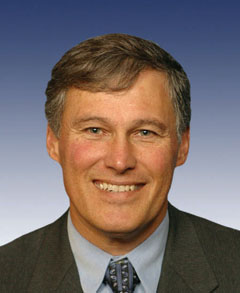 Raised on the shores of Puget Sound, Jay Inslee comes from a long line of Washingtonians. His father, Frank, was a biology teacher and athletic coordinator; his mother, Adele, a homemaker and artist; and together they oversaw the Student Conservation Association at Mt. Rainer National Park. Jay would go on to begin his own public service as a state legislator and prosecutor in Selah, Washington.
Jay has represented Washington state at the federal level for more than a decade - as representative for the 4th Congressional District from 1992 to 1994 and the 1st Congressional District since 1999 - writing and sponsoring legislation to create jobs in the new clean-energy economy, reform healthcare, protect our environment, and expand access to high-speed communications.
Jay fought to restore protections for national forests and led a successful campaign in the House to keep limits on oil-tanker traffic in Puget Sound. Since 2005, he has used his seat on the powerful House Energy and Commerce Committee to promote his vision for a clean-energy future, the New Apollo Energy Act, and to advance other legislation that would reduce greenhouse-gas emissions. In March 2007, he was appointed to the 15-member Select Committee on Energy Independence and Global Warming. And in 2008, Jay co-authored, with Bracken Hendricks, Apollo's Fire, Igniting America's Clean-Energy Economy.
Jay has used a common-sense approach in Congress to help expand Washington state's high-tech economy, promote privacy protections for American consumers, strengthen Social Security and Medicare, and provide more resources for veterans and port security. This same approach prompted Speaker Nancy Pelosi in July of 2009 to ask Jay to play a key role in negotiating a solution to the Medicare reimbursement inequities that Washington state patients and healthcare providers have faced for decades. The compromise Jay helped lead became part of the healthcare reform legislation the House passed in 2009.
Jay supported the original war in Afghanistan to root out the Taliban and the terrorist networks they supported. He voted against, and has been an outspoken critic of, the invasion of Iraq and our subsequent policies there.
Jay holds a bachelor's degree in Economics from the University of Washington and earned his law degree from Willamette University. He's been married to his high-school sweetheart, Trudi, since 1972. The couple has three grown children and one grandchild.
Current committee assignments and activities:
Member House Committee on Energy and Commerce
Subcommittee on Communications, Technology, and the Internet
Subcommittee on Energy and the Environment
Member House Committee on Natural Resources
Subcommittee on National Parks, Forests and Public Lands
Subcommittee on Water and Power
Member Select Committee on Energy Independence and Global Warming
Co-Chair and Founder of Sustainable Energy and Environment Coalition
.