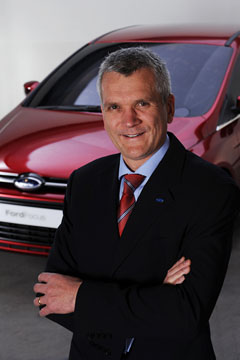 Paul Mascarenas is CTO and vice president of Research & Advanced Engineering, Ford Motor Co. In this role, he leads Ford's worldwide research organization, based in Dearborn, Michigan, and Aachen, Germany.
The Research & Advanced Engineering staff of scientists, engineers, and technicians is dedicated to supporting Ford Motor Co. as a world leader in providing safe, sustainable, emotive, and affordable mobility through innovation in science and technology. As head of the advanced engineering group, Paul also oversees the planning, development, and implementation of Ford's top global technology objectives.
Prior to his current role, Paul served as vice president of Engineering for Global Product Development. He was responsible for all engineering for car, truck, SUV, and crossover vehicles for the Ford, Lincoln, and Mercury brands. He also helped lead the development and implementation of the Ford Brand DNA.
Since 2002, Paul has played a lead role in the design, development, and launch of key North America products, including the Ford Taurus and Lincoln MKT, Ford Edge and Lincoln MKX crossovers, and the Ford Fusion and Lincoln MKZ sedans.
Prior to moving to Dearborn in 2002, Paul was the vehicle line director for midsize cars and MPVs in Europe and was previously chief program engineer of the Ford Mondeo, which is the Ford brand's flagship sedan in Europe, Asia, and South America.
Paul joined Ford in 1982. Through the course of assignments in Germany, the U.K., and the U.S., he has amassed extensive experience in product development, having held positions in product planning, program management, body engineering, and powertrain. He was appointed a company vice president in January 2005.
Paul holds a Mechanical Engineering degree from the University of London, King's College. He is a Fellow of the Institution of Mechanical Engineers and was elected an SAE Fellow in 2009. He served as general chairperson for the 2010 SAE World Congress and chaired the 2010 SAE Convergence event.