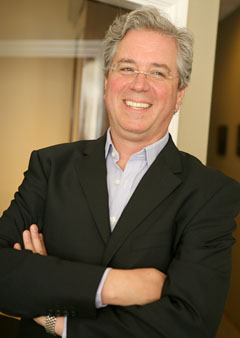 André de Fusco is a 25-year technology entrepreneur with hands-on experience leading early-stage through IPO companies in various high-technology application areas. As CEO of Cynvenio Biosystems Inc., he secured the funding and developed the strategy to transform this university microfluidic spinout into a leading player in the rapidly developing field of cancer genomics. To this end, Cynvenio has developed novel bioinstrumentation to isolate Circulating Tumor Cells (CTCs) directly from whole blood in order to access their DNA in a clinically relevant manner. By giving physicians access to the mutations in their patients' DNA, Cynvenio delivers a new paradigm of molecular certainty that will revolutionize cancer diagnostics and patient treatment. Cynvenio is engaged in clinical trials with major cancer research centers, has a development contract with Novartis Oncology (Cambridge, MA), and was the the first company to sequence CTCs on Life Technologies' (Carlsbad, CA) Ion Torrent system in 2011.
In addition to his interests in personalized medicine, André was most recently president and CEO of Sabeus Inc., a provider of fiberoptic systems to the military and the energy industry; director and president of Neven Vision Inc., a novel facial biometrics company (acquired by Google); and president and CEO of voice-over-data networking manufacturer ACT Networks Inc. (Nasdaq:ANET), which he joined from Nortel Europe prior to the IPO.
André is the former technology committee chair (2002-2007) of Washington, D.C.-based American Electronics Association (now TechAmerica) and also served as AEA's trade delegate to China. He currently serves on the advisory board of directors of the Center for Law, Brain & Behavior at Massachusetts General Hospital in Boston.
André grew up in Europe, where he started his career as a programmer at Ing. C. Olivetti & Co. in Milan. He has a B.A. in Political Science from the University of California, Los Angeles, and a certificate in General Management from UCLA's Anderson School of Business.