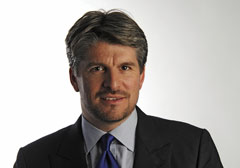 Matthew Marsh is one of Asia's best-known motor racing personalities. After a successful career on the track, he now works on the commercial side of the sport, developing the Asian business of Just Marketing International - the world's largest motor sport-exclusive agency.
In 2008, Matthew became the only Hong Kong driver to have scored an FIA World Championship point, by finishing eighth in the final round of the World Touring Car Championship at the Macau Grand Prix, driving a BMW. Prior to that, he was the first driver to represent Hong Kong at the world-famous Le Mans 24-hours race in 2007 (Ferrari 430) and the first to do so at the Monaco Grand Prix in 2005 (Porsche Supercup).
Matthew was a front-runner in the Porsche Carrera Cup Asia from 2003, winning the region's premier series in 2004. He took the top step of the podium at Grand Prix supporting races in Britain, China, and Malaysia - another benchmark for Hong Kong drivers. He is also the only driver in the world to have competed in the Porsche Supercup and the Carrera Cups in Asia, Great Britain, and Japan.
A passion for endurance racing led Matthew to score class wins at the Bathurst and Nürburgring 24-hour races - the latter in a historic victory with Aston Martin's factory team in 2008. He was also a front-runner in the GT class of the Rolex 24-hours of Daytona in both 2008 and 2009. A podium finish at Le Mans in 2009, driving a Lola in the LM P2 class, was denied by engine failure in the 23rd hour.
The 42-year old is a guest commentator and presenter on ESPN Star TV's coverage of the Formula One World Championship. He attends Grands Prix and various new car launches as an accredited journalist and contributes motor sport and motoring-related lifestyle stories to publications worldwide, including a regular column in the China Daily - the largest circulation English language publication in the People's Republic. With his wife, Jessie; daughter, Megan - and their Lakeland Terrier dogs, Mui Mui and Parker - Matthew lives in Hong Kong, where he is a permanent resident.