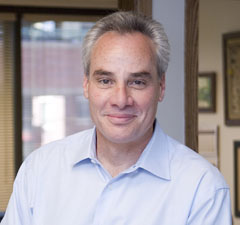 Peter Vitulli was appointed president and CEO of DNA Diagnostics Center in July 2010. He has 35 years' experience within the consumer products and healthcare industries in both large corporations and entrepreneurial companies.
Prior to DDC, Peter served as the president and CEO of Sciona Inc., a pioneering personal genetics company that provided customized health and wellness solutions. Before Sciona, he was the president and CEO of Amerifit Nutrition Inc., a nutritional supplement company focused on women's health. Before that, he served as the president and CEO of Everfresh Beverages, a private-equity-backed juice drink company.
Peter spent the first 16 years of his career at the Quaker Oats Co., most recently as president of the North American Gatorade business, one of the premier functional food products in the world. During his tenure at Quaker, he worked in several divisions, including a two-year tenure in Quaker's U.K. subsidiary. Peter received his bachelor's degree from Holy Cross College and an MBA from New York University. He currently serves on the boards of DDC and Woodbury Health Products.