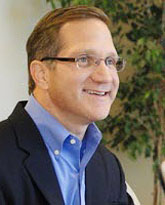 Steven Lemelin is a Deloitte Consulting principal and a leader within Deloitte's Strategic Clients Program based in San Francisco. He joined Deloitte in 1994 and has been a consulting principal since 1999. He has 24 years of technology, media, and consumer products industry experience.
For the past decade, Steve has been focused on leading Deloitte's global relationship with several of the firm's largest and fastest-growing technology sector clients. He is adept at building high-performance cross-functional teams; has extensive experience in managing large, complex programs; and has led numerous strategy, business process redesign, and system implementation projects. He is an advisor to numerous Deloitte client teams in the technology and consumer products industry sectors and serves as a Deloitte partner/principal leadership instructor.
Prior to Deloitte, Steve worked for Recognition International, DuPont, Eastman Kodak, and Dominion Resources (Virginia Power). He currently serves on the board for Junior Achievement's Northern California Chapter and is actively involved in several Bay Area charity organizations. He and his wife, Petra, have three children and live in San Francisco's East Bay.