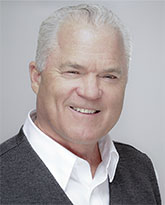 Randy Williams founded the Keiretsu Forum in September 2000, to provide a disciplined and structured approach to private equity investing. Randy's passion for investing and bringing together like-minded community leaders has created a powerful and giving environment for entrepreneurs. With over 1,000 members in 26 chapters on three continents, Keiretsu Forum is the world's largest angel investor network.
Randy has 25 years of experience in finance, real estate, and marketing, including in various alternative asset classes. He was co-founder and director of Diablo Valley Bank, as well as president of Pacific Union Commercial Brokerage, founder of the LaMorinda Bank, and managing director of Kennedy-Wilson International, an international real estate investment company. Randy is also the founder of the Keiretsu Forum Charitable Foundation. Since its inception in 2001, 113 deserving charities have been granted sizable donations.
Randy is a frequent guest speaker at investment conferences, leading universities, and business schools on alternative asset investment and entrepreneurialism. He holds a Bachelor of Arts degree from the University of California-Berkeley and a master's degree from St. Mary's College of California.