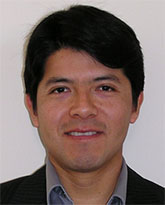 Will Martinez is the founder of Nanotech Biomachines Inc. He is a hands-on CEO who enjoys building an experienced team to create innovative solutions for customers. His industrial R&D, manufacturing, and commercialization experience expands over more than eight years. He has extensive expertise in the manufacturing of nanomaterials and microsystems such as biosensors, MEMS, RF analog devices, and drug delivery devices. Will is in charge of interacting with customers and bridging their needs with innovative graphene products and solutions.
As CTO, Will oversees critical R&D and product development milestones for future company products. He has previously served in dynamic R&D teams at GE Global Research and Innovative Micro Technology (IMT), where he held research and engineering positions.
Will holds US patents in advanced materials and is the inventor on multiple patents pending for graphene devices. He earned his B.Sc. degree in Metallurgical & Materials Engineering from the Colorado School of Mines, and his master's degree in Materials Engineering from the University of California, Santa Barbara, in 2005.
Will was born and raised in the southern Andes of Peru. When he is not working on creating solutions for customers or growing the company, he can be found cycling or running in the beautiful hills of Berkeley with his wife.