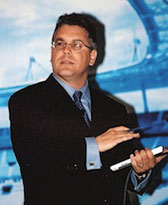 Gonzalo Martinez is the director of Strategic Research for the office of the Chief Technology Officer at Autodesk Inc. In his role, Gonzalo is responsible for technology strategies and market research and plays a major role in influencing the direction of Autodesk Inc. Gonzalo oversees the execution of tactical plans to achieve the goals and objectives for the company. In this capacity, Gonzalo provides guidance to senior management and executives on advanced product development.
Gonzalo started with Autodesk in 1991 and has held key positions for Autodesk in the areas of software development, executive sales, and worldwide marketing. Gonzalo is based at Autodesk Inc. headquarters in Northern California.
Gonzalo holds a Manufacturing Engineering degree from Boston University with a specialization in CAD/CAM/CAE.