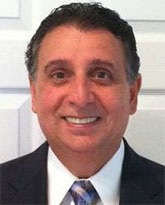 John Nachef is CEO of Secure Cloud Systems (SCS), an emerging brand that provides "insanely secure" cybersecurity offerings utilizing MicroTokenization® and MicroEncryption® processes, along with a file-sharing and collaborating Web-based system through its www.CertainSafe.com product line. Over the last four years, SCS has developed a new method using the long-established tokenization process to secure sensitive data at the Micro level. This technology is changing the way business and governments are managing security with the newest, most proficient technology available today, and SCS believes they are going to change the way the world protects and accesses sensitive data and information for years to come.
John is a career entrepreneur with a proficiency for building and rebuilding enterprises. A Massachusetts native, John started his long-established business career in 1978. Starting with the automobile business, growing the business into a 25-plus-million-dollar revenue operation and managing a 150-person organization, he decided that it was time to move in a new direction. Roughly a decade later, John sold the dealerships and began investing in other areas. He then started an equipment leasing business, which he built and sold after eight years of successful operations. This investment experience led to the funding of various business and development deals, which gave him years of experience dealing with management and startup organizations, many of which became multi-million-dollar organizations. John's experience in financial deal structuring gave him invaluable experience in developing emerging businesses.
Alongside other endeavors, John started up Southern Financial Trust, a private advisory investment business. He went on to open a mortgage brokerage business in 2003, buying three offices around southwest Florida from an out-of-state bank. After six years in that industry, John once again had an opportunity for change and jumped on it. He purchased a distressed coffee company, and within two years grew the business by focusing on a sales strategy that brought the product to companies such as Sam's Club and Costco. John grew Manatee Coffee and successfully sold that business.