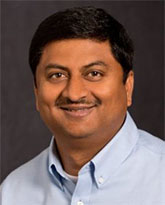 Saravan Rajendran is vice president and general manager of the Cloud Networking and Services Group within Cisco's Cloud and Virtualization Group. He is responsible for the company's hybrid cloud solution, Cisco Intercloud Fabric, in addition to Cisco's Virtual and Cloud Networking solutions, including the multi-hypervisor Nexus 1000V product line, Nexus 1010 & 1100 series, and projects for virtual and cloud network services. In this role, Saravan works actively across Cisco and with its partners in the development and execution of Cisco's strategies for Intercloud, Cloud Networking, Virtualization, and Software Defined Networking (SDN) / Network Function Virtualization.
Saravan co-founded the concept of Cisco Intercloud Fabric â€" the hybrid cloud technology at the foundation of Cisco's Intercloud strategy â€" which was patented in 2009 when the concept of "hybrid clouds" did not yet exist. Saravan then led the engineering and go-to-market efforts to bring this unique solution to market in October 2014. He continues to play an active role in helping shape Cisco's Intercloud strategy.
Saravan co-founded and led execution to bring the Nexus 1000V product to market in partnership with VMware, Microsoft, and Red Hat. Upon its introduction in 2009, the Nexus 1000V spawned the virtual switching industry, paving the way for SDN solutions. It is the first product in the industry to ship VXLAN and is the only multi-hypervisor virtual switch on the market to date.
Since joining Cisco in 1995, Saravan has been a key architect of L3 switching concepts in the Catalyst 6500 platform, led a number of L4-7 load balancing projects, and incubated the Application Oriented Networking business unit.
In 2001, Saravan co-founded Desana Systems, a company that successfully designed and delivered intelligent L4-7 switches and grew from eight to 120 employees.
Saravan holds over 19 patents in the areas of switching, service chaining, and virtual networking. He has a master's degree in Computer Science and Telecommunications from the University of Missouri and a bachelor's degree in Electronics and Communications Engineering from Anna University in India.