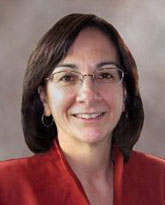 Judy Murrah is chief information officer for Applied DND Sciences Inc., responsible for IT strategy and implementation, including operations support, customer-facing applications, and development of the company's underlying technology infrastructure.
Judy comes to APDN from Motorola Solutions, which had acquired her former firm, Symbol Technologies. At Motorola, Judy was senior director of Information Technology, overseeing financial operations, quality assurance, and IT governance of thousands of resources globally. At the data-capture and wireless mobility pioneer Symbol, she established and led the IT Portfolio and Project Management office and the company's first cross-functional business Portfolio Review board for governing investment spend and programs.
In addition to the business world, Judy has taken her expertise to the nonprofit sector. She is co-founder and president of ConnectToTech, a recognized leader in programs to engage students in the STEM disciplines: science, technology, engineering, and math. Recently, ConnectToTech was named a recipient in Computerworld's 2013 Laureate Honors Program. Laureates were recognized at an awards gala in Washington, DC, where Judy and her organization were presented with a medallion inscribed with the program's mission: "A Search for New Heroes."
Judy was named to the 2005 and 2006 Top 50 Women of Long Island and received the inaugural 2001 Diamond Award for Women Leaders in Technology.
Judy holds an MBA from Harvard Business School and a BS in Industrial Engineering from the University of Rhode Island. She is the author of 11 US patents.