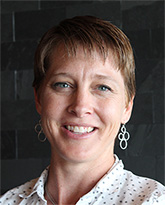 Denyse Hudson is executive assistant to Mark Anderson, the administrative logistics coordinator for Strategic News Service, and senior operations manager for Pattern Computer Inc.
Denyse joined the Strategic News Service team in January 2016 and works remotely from her Frederick, Colorado, office assisting in operating and managing SNS initiatives; is an integral part of the sales team for both Strategic News Service and the SNS Future in Review (FiRe) conference; works closely with the SNS programs director in coordinating events; and oversees administrative responsibilities for Pattern Computer Inc.
In the 14 years prior to joining SNS, Denyse worked in the business offices of a retail company and a resort, performing a variety of back-office tasks. She spent more than five years volunteering on the boards of local youth athletic programs her children participated in, where she helped with fundraising and organizing teams and sporting events for football, basketball, baseball, and lacrosse. She has also volunteered on her children's elementary-school PTA board. Denyse now spends her free time volunteering at her church; exercising at the fitness club; making memories with her two sons, her husband, and her dog, Elka; and enjoying all of the outdoor beauty Colorado has to offer.