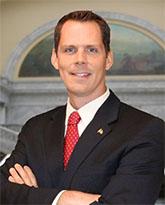 Jake Anderegg is a vice president within the Community Development department at Zions Bank. He has been with Zions for three years. He has his Masters of Business Administration from Westminster College in Salt Lake City, and received his Bachelors in Economics from Brigham Young University.
Jake is a senator in the Utah State Legislature for Senate District 13. He is the chair of the Senate Economic Development Committee. He also serves on the Senate Transportation Standing Committee and the Infrastructure and General Government Appropriations Subcommittee. He has served in the Utah Legislature for five years.
Jake is an avid outdoor enthusiast, enjoying time hiking, camping, rock climbing, and water skiing. He has been married to his wife, Julie, for 20 years and has five children ranging in ages from 18 to six.