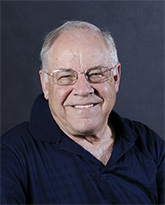 Charles (Chuck) H. House is CEO of InnovaScapes Institute (ISI), which is focused on researching, documenting, and interpreting high-tech innovation and impact on society. ISI just completed 200 AV interviews for the Cisco Heritage project. Chuck is also executive director for the Novim Group Epiphany Awards (www.novim.org/projects/ajn-awards). He was previously chancellor and CEO of Cogswell Polytechnical College and executive director of Media X at Stanford University's membership research program on media and technology, where he is now a Distinguished Visiting Scholar.
Chuck is a trustee of the Computer History Museum. He was president for the Association for Computing Machinery (ACM), vice president of the Institute of Electrical and Electronic Engineers (IEEE), and chairman of the National Security Advisory Board for the Air Line Pilots Association after 9-11.
Chuck retired from Intel Corp. in 2006 as its collaboratory research director and director of Societal Impact of Technology, following an EVP role at Dialogic Corp. He was president of Spectron MicroSystems, sold to Texas Instruments; and prior to that was president of the VISTA division of Veritas Software, sold to Centerline Software; and SVP of Product Management and Development at Informix Software Inc.
Chuck spent nearly 30 years in engineering research and development with the Hewlett-Packard company, including five years as the corporate engineering director. He co-authored The HP Phenomenon (Stanford Press, 2009) and authored Permission Denied (2013), documenting a long intrapreneuring career, first featured in Gifford Pinchot's Intrapreneuring (1985).
He has numerous technical acknowledgments, including Hewlett-Packard's only Medal of Defiance (1982), HP's "Chuck House Productivity Award" (1990), Electronics Engineer of the Year (1977), Computer Design Hall of Fame (1982), "200 Wizards of Computing" (Smithsonian, 1997), Top 50 Electronics Inventions of the 20th Century (2001); and Top 25 Inventions for CNN's First 25 Years (2002). He is both an IEEE and ACM Fellow.
Chuck holds a BS degree in Solid-State Physics from California Institute of Technology, an MSEE from Stanford University, a Master's in Arts degree in History of Science and Technology from the University of Colorado, an MBA in Strategic Studies from Western Behavioral Sciences Institute (now UC San Diego), and an honorary PhD in Digital Arts from Cogswell College.