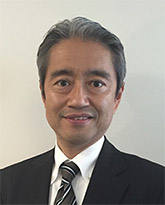 Masahiro (Mark) Nakayama was appointed general manager of the Washington, DC, Office of the Central Japan Railway Company (JR-Central) in July 2015 after three years of active leadership at the International Department of JR-Central in Tokyo from 2012 through 2015. In Washington, Masahiro oversees high-speed rail projects and initiatives in North America, which JR-Central has been pursuing as a technology provider of the Japanese Shinkansen system in Texas from Dallas to Houston, as well as the SCMaglev systems for the Northeast Corridor from Washington, DC, to New York.
After joining JR-Central in 1990, Masahiro's major responsibility was planning and improvements of Tokaido Shinkansen's on-board service and catering, as well as commercial development of Shinkansen stations in the Tokyo metropolitan area.
Besides high-speed rail's commercial and service operations management, Masahiro has long managerial experience in the Japanese real-estate and hospitality industries, which are mainly focused on JR's high-speed rail stations in Tokyo, Yokohama, and Nagoya regions; those portfolios ranged from urban hotel complex to resort properties. His most recent responsibility with the lodging industry was as general manager of the newly opened Hotel Associa Shin-Yokohama, from 2010 to 2012.
From 1999 to 2005, Masahiro played various important roles for planning, development, and operations of the 770-room Nagoya Marriott Associa Hotel, which was built above the Shinkansen Nagoya Station. These assignments included serving as manager of the Marriott International franchise contract and Marriott standards deployment, public relations manager, and director of Restaurants.
Prior to the Nagoya Marriott development project, Masahiro was a management trainee at the ITT Sheraton Corporation's North American headquarters in Boston and Sheraton-managed hotels in New York City and San Diego, California.
Masahiro holds a Master of Professional Studies (Hospitality Administration) degree from Cornell University and a BA in Economics from Waseda University in Tokyo.