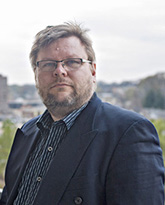 Harri Hursti is a world-renowned data security expert, internet visionary, and serial entrepreneur. He began his career as the prodigy behind the first commercial, public email and online forum system in Scandinavia, founded his first company at the age of 13, and went on to co-found EUnet-Finland in his mid- 20s. Today, Harri continues to innovate and find solutions to the world's most vexing problems.
Harri is considered one of the world's foremost experts on the topic of electronic voting security, having served in all aspects of the industry sector. He is considered an authority on uncovering critical problems in electronic voting systems worldwide. In the last 10 years, he has pursued this important area out of a sense of duty to his fellow citizens of the world.
As a consultant, he has conducted and co-authored both academic and commercial studies on various election systems' data security and vulnerability at the request of officials, legislators, and policymakers in five countries, including the US government, at both the state and federal level.
As an ethical hacker, Harri is famously known for his successful attempt to demonstrate how the Diebold Election Systems' voting machines could be hacked, ultimately altering final voting results. Harri was hired by the nonprofit elections watchdog group Black Box Voting, for which he performed two voting-machine hacking tests, which became widely known as the "Hursti Hacks." The first Hursti Hack was set up in Leon County, Florida, with the authorization of the supervisor of Elections; these tests examined a Diebold Election Systems Accu-Vote OS 1.94w (optical scan) voting machine. The second Hursti test was conducted for Black Box Voting in collaboration with the county clerk of Emery County, Utah, on a Diebold TSx touch-screen.
In response to these successful hacks, California's secretary of state commissioned a special report by scientists at UC Berkeley to investigate the results and confirm the validity of the testing methodology used in the Hursti Hack. The UC Berkeley scientists wrote a Special Report on the Diebold Accuvote Voting Machine in which page 2 of their report states: "Harri Hursti's attack does work: Mr. Hursti's attack on the AV-OS is definitely real. He was indeed able to change the election results by doing nothing more than modifying the contents of a memory card. He needed no passwords, no cryptographic keys, and no access to any other part of the voting system, including the GEMS election management server." These tests were filmed and turned into an acclaimed HBO documentary, Hacking Democracy, which was nominated for an Emmy award for outstanding investigative journalism.
In the area of critical infrastructure, Harri completed an assignment organized by the US Department of Homeland Security in February 2014, in which he assumed the role of COO of an imaginary $53B critical infrastructure company in a cybersecurity attack simulation.
Harri was also a co-founder of ROMmon, a network monitoring appliance vendor, where he developed an ultra-high-bandwidth, realtime network traffic analyzer - the first of its kind. He served as ROMmon's chairman of the board. ROMmon was acquired by F-Secure Corp.
In his early career, after creating EUnet Finland, Harri continued to help build-out EUnet in Scandinavia, which became the leading European ISP in the 1990s. He served as the CEO and chairman of the board of EUnet Finland and EUnet Norway. The combined EUnet companies were ultimately acquired by Qwest Communications. At Qwest, Harri continued to hold several senior positions, including president of the KPN/Qwest DSL business unit and chief access officer of KPNQwest.
Harry is the author of four US patent applications for encryption and security and several additional international patents. For his research and work on data security and data privacy, he received the EFFI Winston Smith Award in 2008 and the EFF Pioneer Award in 2009.