Global Report on
Technology and the Economy
19 Years Providing Weekly Foresight
The most accurate predictive report on technology and the global economy,
read by leaders in industry, finance, and government worldwide.
| | | |
| --- | --- | --- |
| SNS Subscriber Edition | Volume 18, Issue 2 | Week of January 12, 2015 |
***SNS***
Special Letter:
On the Commercialization of
Graphene and other Nanomaterials
[Please open the attached .pdf for best viewing.]
By Ray Gibbs
SNS Predictions : West
- An Inaugural Event -
with Mark Anderson and Special
Centerpiece Conversation Guest Mark Hurd
We're very excited to announce the launch of the
SNS Predictions : West event!
Where: Golden Gate Yacht Club,
1 Yacht Rd., San Francisco
When: Thursday, February 5, 5pm-8pm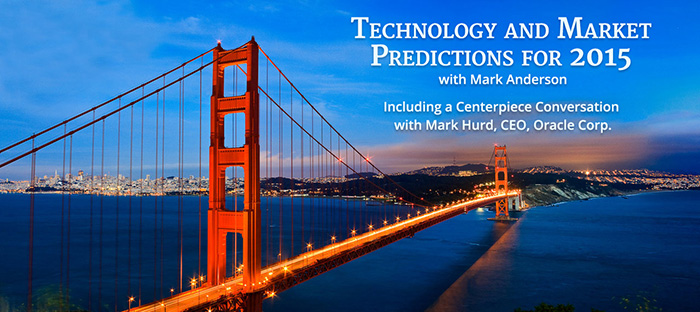 Only $95 - Seating is limited - Register now: www.stratnews.com/events/west
For Agenda details, visit: www.stratnews.com/events/west/agenda
The evening includes:
Two receptions (before and after the event), with drinks and hors d'oeuvres
Centerpiece Conversation with Mark Hurd
Mark Anderson's Top 10 Technology and Market Predictions for 2015


Join us for this first-ever West Coast SNS Predictions event, to share great ideas, see some old friends; and meet new and future colleagues for the first time - including Mark and some of the SNS crew - in an evening of lively, and fun, conversation onstage and off.
You'll also come away with an invaluable tool: being that much smarter about practical issues that will affect us all, and create some unexpected opportunities, in the year to come.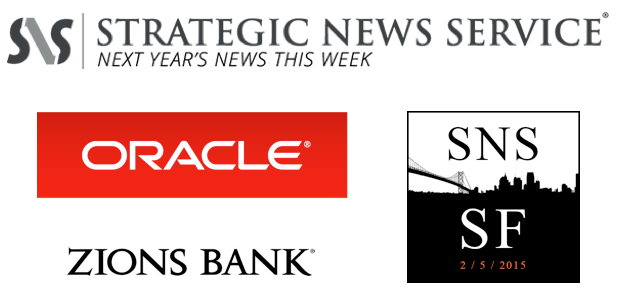 Publisher's Note: We have been writing about graphene's potential for many years now. As SNS members know, I am on the Advisory Board of the Graphene Stakeholders Association and, more recently, of the first Graphene Center of Excellence. So I, and SNS, have put our time and money where our publications have been, working to understand and accelerate the commercialization and market uptake of this most amazing material.
Recently, I had a chance to meet with Ray Gibbs, CEO of Haydale Plc, and talk with him at length about how this commercial transition will occur. He may be the best-informed person in the world on this subject, since it is his company's chosen charter, and the subject itself may be among the most important in the world. All in all, it's easy to understand why we leaped at the chance to have Ray explain his views on how and when this will happen.
If members think that graphene will not impact their corner of technology, whatever it may be - from chips to planes, screens to 3D printing, future cars to wearables, fuel cells to desalinization - graphene will be there. And so will the SNS members who saw it coming, early. - mra.
...