Doug Gourlay
Vice President, Data Center Solutions, Cisco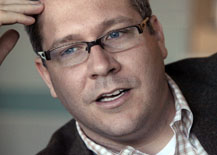 Douglas Gourlay is the vice president of Marketing at Arista Networks, a privately held, pre-IPO networking company based in Menlo Park, California, and the leader in 10Gb Ethernet switching for the data center. Doug is responsible for global marketing, product management, strategic alliances, and corporate communications. Since his joining Arista, the company's portfolio has expanded to include virtual, gigabit, and modular switching platforms and has been awarded the NetworkWorld ClearChoice award for "Best 10GbE Top-of-Rack" switch, the "Best of Interop" award in the Infrastructure category, and the "Best of Interop: Overall Best in Show" award.
Prior to joining Arista, Doug was the vice president of Cisco's Data Center Solutions Group, where he defined and executed Cisco's global strategy for data center, virtualization, and cloud computing solutions. This included the Nexus and Catalyst Data Center Switches, Application and Server Load-Balancing, Storage Networking, Blade Switching, and Wide-Area Application Services product families and their IT solutions. Under his leadership, Cisco's data-center segment grew from a nascent business to over $6B in annual revenue.
At Cisco, Doug led and contributed to numerous hardware, software, and systems architecture developments across the company. He served as senior director of product management leading the initial development of the Nexus Family of Data Center switches, as director of product management for the Catalyst 6500 Series of LAN Switches during the development and productization of the Supervisor 720, and led product management for Cisco's Application Delivery product family. Doug has over 25 patents in networking technologies.
Prior to Cisco, Doug worked as an industry consultant and served as a U.S. Army infantry officer.