Bill Phelps
Executive Director, Technology Consulting, Accenture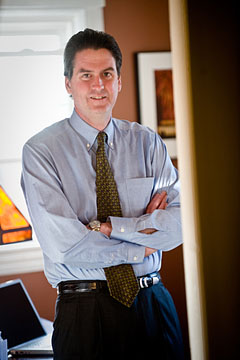 Bill Phelps is an executive director in Accenture's Technology Consulting practice. He has spent more than 20 years in technology services, and has focused for the last decade on helping organizations address complex, large-scale transformation challenges in the areas of data center technologies, networks, security, and messaging.
Bill leads Accenture's North American Security Consulting practice, where he supports clients addressing a range of complex security challenges across all of the industries that Accenture serves. Recent projects include security architectures for government collaboration, enterprise identity management, and securing enterprise applications, especially SAP. Bill also leads Accenture's global program to help government and private sector organizations address the rapidly increasing cyber security threat. Accenture recognizes the importance of this threat for all of its clients, and Bill is bringing together the full scope of Accenture's global capabilities to help clients respond. Key focus areas for Accenture's cyber security initiative include enhanced situational awareness, IT resiliency, and real time compliance.
Bill rejoined Accenture in early 2004 after spending four years founding and building a company, SevenSpace, to provide remote infrastructure management services. At SevenSpace, Bill helped pioneer remote infrastructure management capabilities, gaining hands-on experience protecting clients from some of the early large-scale worm and virus attacks. Bill also supported one of the largest broadband email and portal platforms, overseeing the design of a resilient infrastructure processing tens of millions of messages daily. SevenSpace was sold to Sun Microsystems and now forms the core of Sun Management Services.
Before rejoining Accenture, Bill also served as a member of the board of directors for True North Solutions, a security consulting firm providing services and solutions to large government and private sector organizations. Bill has also served as an advisor to a variety of other successful information-technology-related startups.
Prior to founding SevenSpace, Bill was an associate partner with Accenture. When he left Accenture, Bill had overall client responsibility for pioneering Web hosting and managed services providers PSINet and Digex. He also has significant prior experience leading complex projects at Verizon, BellSouth, and other communications service providers.
Bill began his professional career with Accenture in 1986 and spent the majority of his career in the communications industry, including a year in London. He earned his MBA from the University of Texas at Austin, where he won the 1986 Moot Corp Venture Design Competition. He also holds a bachelor of arts degree from the University of Connecticut.
Bill lives in Virginia, just outside of Washington, D.C., with his wife, Cathleen, and three children.