Raimund Genes
CTO, Trend Micro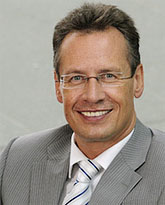 In his role as CTO of Trend Micro, Raimund Genes is responsible for introducing new methods to detect and eradicate threats. He is responsible for a team of developers and researchers around the globe who research and develop new core technology components to protect against email, Web, and file threats under the Smart Protection Network umbrella.
Raimund has held several executive management positions within Trend Micro, including general manager for its Incubation business, president of European Operations, European vice president of Sales and Marketing, and managing director.
Raimund worked in the German air force for 12 years in Radar Guidance and Aircraft Tracking and holds a master of Science in Radar Guidance from the German Air Force Academy. He is also a certified network engineer.
As a well-known IT expert, Raimund has published many articles in security-related magazines.
Previous speaking engagements include: Crime Summit London (March 2010), RSA Conference (2008, 2009, and 2010), Cyber Crime Symposium/Japan (June 2009), e-Cloud Computing Expo/Europe (May 2009), Cloud Slam (April 2009), RSA Conference (2008, 2009, and 2010), SMB Security Summit (2007), ISSA e-Symposium (2007), and CIO Strategies Europe (2006).