Randy Foutch
Chairman and CEO, Laredo Petroleum, Inc.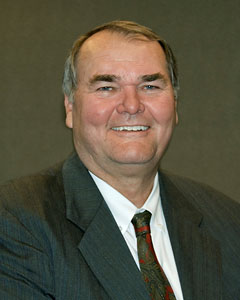 Randy A. Foutch is an experienced oil and gas executive with prior successes in forming his own privately held companies. He is currently chairman and CEO of Laredo Petroleum Inc.
Laredo Petroleum is an independent oil and gas company with headquarters in Tulsa, Oklahoma. Laredo's business strategy is focused on the acquisition, exploration, and development of oil and gas properties in the Mid-Continent region of the United States. Laredo was formed with an initial commitment of up to $600 million of equity from Warburg Pincus.
Prior to the formation of Laredo, Randy founded Latigo Petroleum Inc. and served as its president and CEO until it was sold to Pogo Producing Co., in 2006. In 1996, Randy founded Lariat Petroleum Inc. and served as president until 2001, when the company was sold to Newfield Exploration Inc.
Randy currently serves on the boards of directors for Bill Barrett Corp., Helmerich & Payne, the National Petroleum Council, America's Natural Gas Alliance, and the Advisory Council of the Energy Institute at the University of Texas at Austin. He also serves on the board of the Catholic Foundation of Eastern Oklahoma, the board of trustees of the University of Tulsa, Tulsa University's Friends of Finance board, and the Gilcrease Museum national board. He also is a member of the C.M. Russell Museum board of directors and a board member Emeritus of Leadership Oklahoma. He has previously served on the boards of several other industry, private, and nonprofit organizations.
Among many other honors and appearances, Randy is scheduled to be inducted into the University of Tulsa's 2010 Business Hall of Fame. He has been a guest commentator on CBS News, and was an invited speaker at Harvard Business School's 2010 Annual Energy Symposium.
Randy was inducted into the 2008 Tulsa Historical Society Hall of Fame and received the American Association of Petroleum Geologists' Public Service Award at its 1999 convention. He holds a Bachelor of Science degree in Geology from the University of Texas and a Master of Science degree in Petroleum Engineering from the University of Houston.