Philip Nelson
Senior Vice President, Strategic Development, NewTek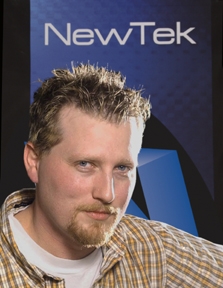 Philip Nelson is NewTek's senior vice president of Strategic Development. This means he gets to hang out with the coolest people, at the hottest venues. You'll find Philip behind the scenes and at the controls of the TriCaster™ portable live production system during major events, like the NBA All-Star Game, ESPN X Games, MTV Video Music Awards, the Miss Universe Pageant, and more.
A NewTek evangelist, Philip has put the company on the map, developing strategic relationships and assisting major broadcasters such as MTV, the Miss Universe Organization, Glenn Beck, Fox Sports, ESPN, NBA, NHL, ESPN X Games, and others. He has helped them create and leverage an online presence by incorporating the use of live video streaming within their current budget and technological capabilities.
A fun, outgoing attitude and a strong passion and enthusiasm for live streaming has helped Philip find unique and creative ways for his clients to become leaders in the IPTV (Internet Protocol TV) revolution. Armed with TriCaster and his expertise of live television production and webcasting, he has helped to expand the audience base for many organizations, large and small. He works with each client every step of the way to teach them TriCaster's simple operation and how to use it to maximize online opportunities. If necessary, he serves as a member of their technical crew to ensure that the project is of the highest quality.
With Philip's guidance, numerous schools, sports organizations, broadcasters, houses of worship, and government agencies have joined the Internet television revolution.