Lesley Curwen
Host, "Business Daily", BBC World Service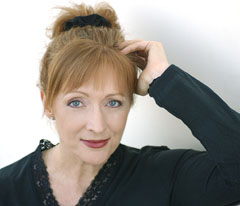 Lesley Curwen is an award-winning business and economics reporter with 20 years of experience in BBC Radio and TV, in news, current affairs, investigations, and documentaries.
Since 2006, Lesley has been the host of the flagship business programme "Business Daily" on BBC World Service, winner of the WorkWorld Broadcast Award. She also presents In the Balance - a half-hour discussion programme, winner of a Wincott Award. She has also been presenting business news on an occasional basis on the Today programme on BBC Radio 4 since 2010.
Over the years, Lesley has reported for BBC News from Washington, D.C., from the World Economic Forum in Switzerland and China, and for the Money programme on BBC2 TV. For seven years, she presented the personal finance programme Inside Money on Radio 4. In the past, she hosted The Financial World Tonight on 5-Live and in its original home on Radio 4.
Lesley has made scores of current affairs programmes for the BBC. They include Assignment, File on 4, Profile, MoneyBox Investigates, a landmark series for World Service called "Global Giants," plus "The Old Lady" on Radio 4, which lifted the lid on life at the Bank of England.