Daniel Kapp
Director, Powertrain Research & Advanced Engneering, Ford Motor Co.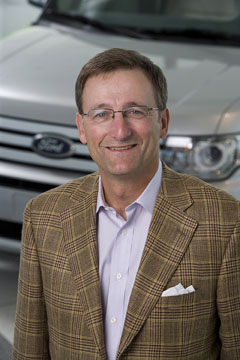 Daniel Kapp has been with Ford since 1977, upon graduation from Michigan Technological University with a BSME degree. He has spent his entire 34-year career in the area of engine and powertrain product development.
From the late '80s through the mid-'90s, Dan was involved in the design and development of the "Modular" V8 and V6 engines as Ford revamped its engine line-up to modern overhead cam designs. He was the program manager of the Triton V8 truck engines through their launch and then spent three years in the Truck Vehicle Center as the Powertrain Systems manager for full-size trucks and SUVs.
In 2001, Dan was appointed to his first executive position as director of Core and Advanced Powertrain Engineering responsible for powertrain controls, catalyst and emission systems, and calibration. One year later, he became executive director for Powertrain Operations, and for five years to his present assignment led the product development for all engines and transmissions in North America, during which time Ford transformed its line-up of automatic transmissions and launched several new engines, including the all-new D35 V6 engine and the 2.5L hybrid engine.
In late 2006, Dan moved to Ford's Research and Advanced Activity to lead the development of advanced powertrain technologies such as EcoBoost.