Kevin Patrick
Professor, UCSD/Calit2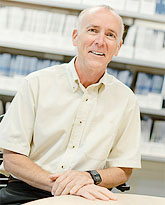 Dr. Kevin Patrick is a professor of Family and Preventive Medicine at the University of California, San Diego; adjunct professor of Public Health at San Diego State University; and, since 1996, has been editor-in-chief of the American Journal of Preventive Medicine. He is a senior advisor to the Robert Wood Johnson Active Living Research Program and is a member of the National Advisory Committee of the Foundation's program in Health Games Research. Kevin is director of the Center for Wireless and Population Health Systems at the California Institute for Telecommunications and Information Technology (Calit2).
Kevin served as a member of the Armed Forces Epidemiological Board from 2000 to 2005, is a past president of the Association of Teachers of Preventive Medicine, served on the Secretary's Council for Health Promotion and Disease Prevention of the US Department of Health and Human Services (HHS), and, from 1993 to 1995, was a senior advisor in the Office of Disease Prevention and Health Promotion (ODPHP) in the Office of the Assistant Secretary for Health of HHS. He has been PI or co-PI on more than $40 million in research and training grants funded by the NIH, CDC, HRSA, and others.
Kevin's current research explores how to use wireless technologies to enable patients and consumers to optimize health promotion and prevention-related behaviors, particularly in the areas of physical activity, diet, and lifestyle. Kevin has authored over 130 peer-reviewed articles, book chapters, and commentaries.