Josh Tickell
New Energy Strategist, Green Planet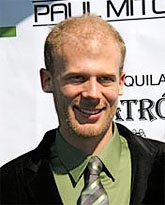 Josh Tickell is a thought leader at the intersection of new energy, new technology, new fuel and new urbanism. As an award winning producer/director his movie FUEL went viral, capturing the Sundance Film Festival's prestigious Best Documentary Award and millions of viewers worldwide. The movie was screened in the White House and influenced the Obama Administration in the roll out of its $28 Billion dollar new energy program that transformed the global markets for algae, fuel and solar power.
Tickell's motto is: "The History of the Future is Being Written Today." He educates companies on what is coming next in solar, wind, fuel, batteries, urban design, transportation, and the broad megatrends that are shaping society. Tickell has spoken to global audiences at companies such as Morgan Stanley Smith Barney and at institutions such as MIT. Tickell has been a featured guest on Jay Leno's The Tonight Show and Good Morning America. He is a regularly featured opinion leader in news stories on TV, magazines, and newsprint.
Josh Tickell's life story is an inspirational David versus Goliath tale. He grew up in an area of Louisiana, called "Cancer Alley," home to some 150 petrochemical facilities which process 60% of America's gasoline. The area has cancer rates that are up to 1,000 times the national average. Tickell watched members of his family suffer with severe pollution related illnesses including cancers, lupus and auto immune diseases. He rose from these adverse circumstances to become a leader in renewable energy, altering international energy landscape. Tickell is an active change agent in his home state. In the aftermath of Hurricane Katrina, Tickell lead a disaster relief project for which his nonprofit organization was selected by President William J. Clinton as part of the Inaugural Clinton Global Initiative on Climate Change. He recently directed a new documentary, 'The Big Fix,' about the 2010 BP oil spill in Louisiana which premiered at the Festival De Cannes and won numerous international awards. His is in production on a new movie, "PUMP!", a global investigation into how to save the future.