Michael Pfeffer
President and CEO, Ibis Networks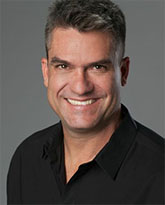 Michael T. Pfeffer is CEO of Gabriel USA Inc. Formerly he was president and CEO of Ibis Networks, a company focused on addressing plug-load energy efficiency for large commercial enterprises. Michael also serves as managing partner of Kolohala Ventures, Hawaii's premier early-stage venture firm. Prior to that, Michael served as president and chairman of the board of Persis Corp., a private equity and real estate firm (2001-2005). Michael also co-founded AllRecipes.com - the largest independent food site on the Internet - which was recently acquired from Readers Digest by Meredith Corp. for approximately $175 million. In addition, he has managed an internal venture fund for Persis Corp., was a co-founder of Pinpoint Venture Group LLC, and continues to invest personally through Hawaii Angels.
Michael serves or has served the community as a board member or trustee of the Nature Conservancy Hawaii, Historic Hawaii Foundation, Hawaii Theatre Center, Boys and Girls Club of Hawaii, the Honolulu Symphony, Pacific and Asian Affairs Council, Chaminade University, Laniakea Foundation, and Hawaii Mission Children's Society.
Michael is a graduate of Punahou School (1987) and obtained a BA in Anthropology from the University of California at Santa Barbara (1991), an MA in Anthropology from the University of Hawaii at Manoa (1995), and an MA in Anthropology from the University of Washington (1996).
Michael has been married to Lacey for 11 years and has two boys, ages 9 and 5. He enjoys fishing, scuba diving, snowboarding, surfing, and playing with the kids in his spare time.