Michael Dushkoff
Senior Software Engineer, Coventry Computer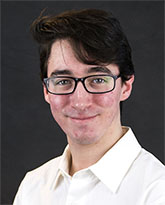 Michael Dushkoff is a senior software engineer at Coventry Computer, a startup in stealth mode, where he is responsible for the research and development of advanced mathematical models and algorithms.
Michael is a graduate of the Rochester Institute of Technology (RIT), with bachelor's and master's degrees in Computer Engineering. His focus has been on the rapidly expanding fields of computer vision, neuromorphic computing, and machine intelligence spanning both hardware and software design. He has several research publications focused on understanding the nature of intelligent systems and building architectures that can take advantage of specific capabilities of existing biological processes, mainly biological brains. He is particularly interested in using the insights gained by manipulating biologically inspired concepts to better understand the way we as humans think and solve problems.
Prior to Coventry, Michael was a research assistant at the RIT Machine Intelligence Laboratory and a teaching assistant in the RIT Computer Engineering department. He is a recipient of multiple honors and awards, including first place in the ARM University Design Competition, a Kate Gleason Alumni Endowed Scholarship, an Award for Excellence in Department Service, an RIT Presidential Scholarship Award, and an RIT Named Scholarship.