Clayton Lewis
Co-founder and CEO, Arivale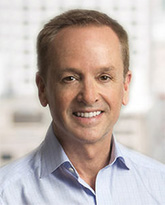 A competitive triathlete with a passion for health and wellness, Clayton Lewis loves to win and push the boundaries of what's possible. In 2007, Clayton joined the consumer-only venture firm Maveron as general partner. In 2014, he partnered with biotech pioneer Dr. Lee Hood to co-found Arivale. Clayton's track record in the consumer world, coupled with Hood's expertise in systems biology, creates a powerful leadership team to define a new industry: scientific wellness.
Clayton has earned a reputation as a focused, inspirational leader who is passionate about building fast-growth businesses. He served on the executive teams that took Onvia and HouseValues public. Early in his career, Clayton served as one of the youngest chiefs of staff on Capitol Hill for Congresswoman Louise Slaughter (NY), Congress's only microbiologist, who is credited for championing the Genetic Information Nondiscrimination Act (GINA).
Clayton is an immediate past president of the Harborview Medical Center board of trustees, where he's served for 14 years. Outside of work, Clayton competes in endurance sports, including Ironman triathlons.