David Roberts
Associate Professor of Computer Science, North Carolina State University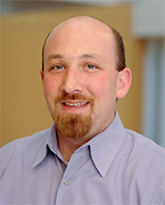 Dave Roberts' background and formal training are in statistical machine learning, but his professional interests lie at the intersection of computation and behavior. More specifically, Dave works on how technology can provide insight into, or shape, behavior in the physical world and how behavior in the physical world can be modeled computationally to create new computational capabilities.
Throughout his career, Dave has worked on problems involving two main application areas: virtual experiences (i.e., computer games) and animal-computer interaction. In the context of games, he works on techniques to identify and influence cognitive and social psychological phenomena with the goal of better understanding users and providing more powerful, more engaging, authorially intended experiences. When it comes to animal-computer interaction, his primary efforts have involved the design of integrated hardware and software systems to support two-way, computer-mediated communication between humans and animals, with a primary emphasis on dogs.
Dave's projects have spanned computer-assisted training systems (CATS) for dogs, wearable physiological monitoring, and drone-assisted handling of search and rescue (SAR) dogs. His research has attracted substantial external funding from the National Science Foundation and the intelligence community, as well as corporate and nonprofit partners such as IBM and Guiding Eyes for the Blind. In addition, his collaborative work on technologies for SAR dogs resulted in a visit and demonstration at the White House in 2014.
With a real passion for animal behavior, Dave has spent time training many species of animals, including chickens, cats, horses, and dogs. In addition to his professional interests, he shares his home with four dogs, including two Labrador retrievers he trains for hunt tests and field trial competitions.
David is an associate professor of Computer Science and interim director of the Digital Games Research center in the Department of Computer Science at North Carolina State University, where he runs the CIIGAR Research Group (https://ciigar.csc.ncsu.edu). He received his PhD in 2010 from the College of Computing at the Georgia Institute of Technology and a BA in Computer Science and Mathematics from Colgate University in 2003. In 2017, Dave took a leave from NC State to co-found a startup company in Silicon Valley and now serves as one of its scientific advisors.