Malek Ben Salem
Senior Manager, Accenture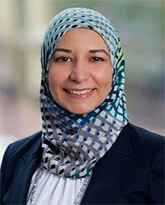 Malek Ben Salem is a technology leader and cybersecurity expert. She leads security R&D for Accenture out of Washington, DC. She has over 18 years of experience developing technology solutions and offerings. Her recent research work focuses on behavioral biometrics, IoT security, data protection, security analytics, blockchain, and cloud and mobile security. It has been featured in DarkReading, NeoworkWorld, and the New York Times, among others.
Malek is helping organizations from various industries adopt innovative security technologies to achieve real cyber-risk reduction and to proactively adhere to digital ethics principles. She is deeply skilled in security innovation and leadership, C-suite collaboration, research and development, technology strategy, and data science. She has authored several peer-reviewed publications and patents and speaks regularly on topics related to cybersecurity and artificial intelligence.
Malek earned a PhD in Computer Science from Columbia University and a Diploma of Electrical Engineering from the University of Hanover, Germany.