Patrick Hogan
NASA Emeritus/K-12 Teacher, Independent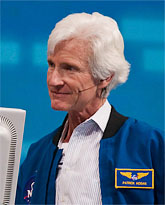 Patrick Hogan, an Earth scientist, has been managing NASA projects since 1991 and, more specifically, the WorldWind virtual globe project ¬- which preceded Google Earth - since 2002. WorldWind's goal has been to establish an Earth observation platform that facilitates innovation by a world of others. The "virtual globe" context provides an intuitive viewing element that allows us to better see ourselves as one planet.
Of particular note, the API-centric architecture of this virtual globe SDK technology serves all virtual globe viewing solutions, from proprietary to open source.
The WorldWind platform has been noted as the most successful technology ever produced by NASA, as measured by its extensive use throughout the US government and the international community. Today, WorldWind is jointly developed by the European Space Agency (ESA) and NASA, with significant input from the world's open-source development community via Github.
Patrick, now NASA emeritus, is a former deep-sea commercial diver, pilot, and high-school science teacher.