Greg Ness
CMO, Tempered Networks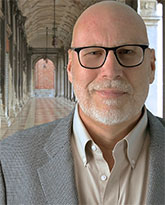 Gregory Ness is the founder of Actium Bay Group, a Silicon Valley-based boutique marketing agency. As a Future in Review (FiRe) conference panelist, he was among the first to point out network and security issues with virtualized IT infrastructures and then emerging cloud operating models, which led to the formation of the Infrastructure 2.0 Working Group with FiRe advisor Dan Lynch and a host of leaders in the networking industry.
Greg's Archimedius blog was one of the world's most influential cloud computing blogs. He has published two science fiction novels (Antioch and Alexandria) and is working on his third, scheduled to be published in 2019.
Greg was formerly VP of Marketing at Vidder, a leading cybersecurity software and services company; VP of Marketing at CloudVelox, a leader in hybrid cloud software for the Global 2000; CMO at Vantage Data Centers (acquired by Digital Realty Trust); VP of Corporate Marketing at Infoblox (IPO April 2012); and VP of Marketing at Blue Lane Technologies (acquired by VMware). Previously, he held marketing executive roles at Juniper Networks, Redline Networks (acquired by Juniper), IntruVert Networks (acquired by McAfee), ShoreTel (IPO), and Verizon (then GTE). He has spoken at Interop, Cisco Live, and Future in Review on topics related to virtualization, networking, and cloud computing. Greg has a BA from Reed College and an MA from the University of Texas at Austin.
On a personal note, Greg enjoys reading and writing, travel, and spending as much time as possible with his family.