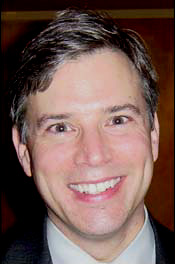 Graham Anderson is a general partner with EuclidSR Partners, an early-stage venture capital firm based in New York City with over $250 million under management in its current fund.
Prior to joining EuclidSR, Graham served in several professional capacities in management consulting, law, software, and new media. He comes to EuclidSR Partners from the strategy consulting firm Salzinger & Co., a division of CommerceOne (NASDAQ: CMRC). At Salzinger & Co., Graham served as a consultant to America Online's Greenhouse Project, Image Technology Corp. (now network MCI Digital Imaging), CI Impressions Inc., and the Walt Disney Co. Prior to joining Salzinger & Co., Graham practiced law at Susman Godfrey LLP in Houston, where he concentrated on securities, private equity, and software law. Graham is a CFA Charterholder and a graduate of Yale College, the University of Glasgow, and the Yale Law School.
In addition to his duties as a member of the Executive Council of New Yorkís Venture Advisory Board, Graham serves on the Venture Capital Steering Committee of the Software and Information Industry Association (SIIA) and on the board of directors of the Venture Industry Association of New York (VIANY). He authored the chapter entitled ìOn Making Investments and Working with Venture Capitalistsî in The Ways of the Venture Capitalist (Aspatore Books, 2003) and is an active participant in software and information industry organizations with an emphasis on the convergence of information technologies and life sciences. Graham concentrates on enterprise software, convergence of information technology and life sciences, and specialty pharmaceutical investing. He serves on the boards of directors of several private companies.